Social Media Channels
We will manage your social media channels, creating all the images and text as well as scheduling your posts for the most optimal times to connect to your audience.
We can manage any and all social media platforms, and reccomend a minimum of Facebook and Google MyBusiness.
Facebook
Facebook is the largest social media platform on the planet. It is one of the best ways to connect with your customers and potential customers. Consistent posting meaningful content on Facebook is one of the cheapest and easiest ways to spread word of mouth.
Instagram
With more than a billion users, Instagram is the place to share amazing visuals for your business. More than 80% of Instagram users are in the coveted 18-49 demographic, making it the perfect place to find your buisness's customers.

Data Driven Decisions
Using the data collected on the platforms and combing it with Google Analytics, the Facebook Pixel, and Zoho Suite, we able to make sure we post content your customers and audience are looking for when they're most likely to see it.
google my business
Claiming and maintaing your Google My Business page is key to increasing your search engine ranking. This is the sidebar that comes up with details about a business when you search for it, including their contact information, hours of operation, and reviews.
twitter
Twitter is a microblogging platform that gives you 240 characters to share with your customers. It's a great place to have conversations, share links, photos, videos, and more!
Social Media Content Creation

Define
We meet with you on a regular basis to make sure we know your business and how best to communicate with your audience.

Design
Every month, we create 12-16 unique posts for your company. We'll take pictures, video, and composite everything for your social media.

Refine
Using data and your feedback, we constantly revise the messaging and assets every month to make sure you connect with customers.

Post
Our automated scheduling software makes it easy for us to post to multiple social networks well in advance and monitor stats.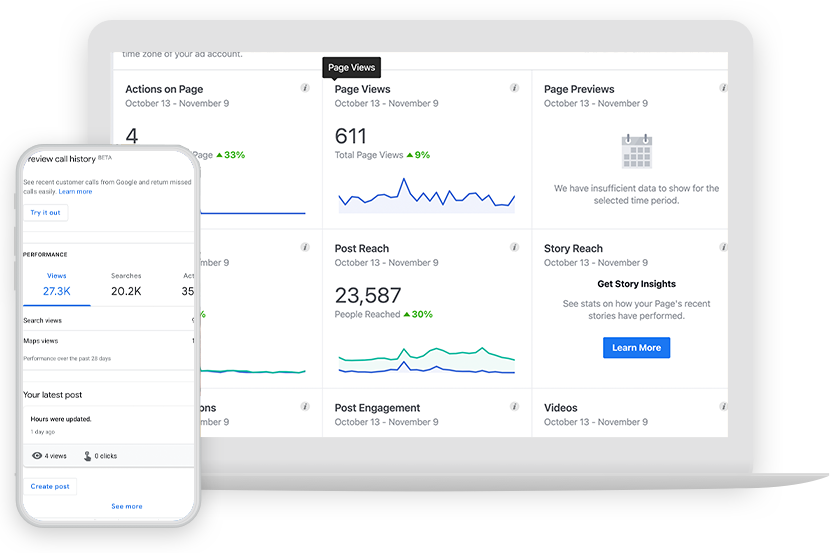 Social Media Reporting
We continuously track CTR (click through rates), calls, map actions, traffic channels and several more KPI's (key performance indicators) and are able to make changes on the creative and audience delivery which have a positive impact on the effectiveness of the posts.  The refinement and optimization of the posts, audiences and methods of delivery is an ongoing process called optimization.